On a recent visit to St Vincent's to receive a ceramic plaque, Charlie Landsborough said:
'I've made a number of visually impaired and blind friends over the years and have always been struck by their resilience, spirit and cheerfulness in the face of their challenges.
I'd like first of all to thank my good friend Keith Burns for bringing about my association with the school. He's a great supporter of all that takes place here and is always promoting the school to everyone he meets. I understand it was him who arranged to get the wonderful Ken Dodd and his lovely Lady Ann on board. Thanks Keith. Through Keith, I discovered some of the problems that confront visually impaired young people. For example that they on average have 5 -7 fewer friends than their sighted peers and that they are 85% more likely to be unemployed. This school is trying to change that situation. I mentioned the wonderful staff here and at the helm is the charismatic Dr John Patterson, who has such energy and enthusiasm.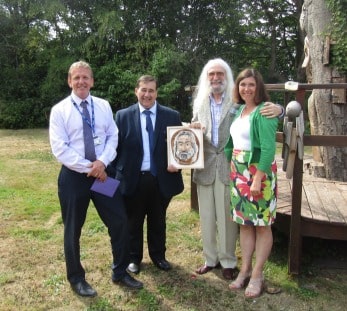 L to R: John Patterson, Keith Burns, Charlie Landsborough & Jane Dixon
My association with the school was helped along through my song 'What colour is the wind' which was inspired by something a blind child said to his or her father. On my last 2 shows at the Liverpool Philharmonic, I was joined by the school choir. Their performance was so heartfelt and poignant and touched everyone present, me included. Someone contacted me a day or so later to tell me 'I'm sorry Charlie but the children's performance of your song was much better than yours!" You can't win 'em all!
This great place is accepting of all children. Although I think the spirit of the Almighty is at work here. I'm delighted to receive this ceramic presentation which has been lovingly crafted by the children and their teacher Jane Dixon. Long may this great work flourish in bringing hope, friendship and support to so many. Thank you to St Vincent's for their kindness to me, I am truly honoured to be one of your friends."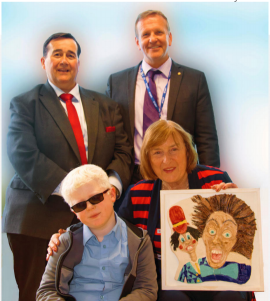 Keith Burns, John Patterson, Adam Gilchrist & Lady Anne Dodd
Lady Anne Dodd was the special guest at St Vincent's School. She received a special ceramic plaque of the 'Squire of Knotty Ash' with his little companion Dicky Mint which the children had made in memory of her late husband comedian Sir Ken Dodd OBE, Sir Ken took a special interest in St Vincent's school in West Derby, Liverpool. The children and staff wanted to do something to recognise his support and also his special contributions to charities by making this memento.
Lady Anne Dodd described St Vincents as being "A remarkable and Wonderful School, with outstanding, dedicated and sincere staff"
If anyone would like to make any small donations to this outstanding organisation, please visit the following link https://sightboxtrust.co.uk/, follow on twitter @StVincentsL12 or email at office@stvin.com